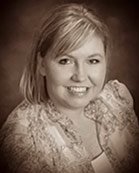 Grieving a mother who died when you were 28 years old is a shattering experience.
Wisconsin native Chelsea Hanson is the founder of With Sympathy Gifts and Keepsakes. An only child,  Chelsea lost her dad when she was only four. Losing her mom Donna when she was 28 years old was another devastating blow. Today, the 43-year-old is a Grief expert, entrepreneur, and author of five booklets about life after loss whose mission in life is to bring solace to the grieving.
1. Losing your mom impacted you deeply. Can you share some of your grief story?
When my mom passed away just before Christmas of 1996, I knew my life and the holidays would never be the same. I hated Christmas for the longest time. We had to open Christmas presents my mom had bought. It wasn't until my son, Jacob, was born in 2006 that I began to enjoy the holidays again.
2. Hello From Heaven was your first gift book. Explain the concept of a gift book and how people can use it.
To deal with my grief, I wrote a poem Hello From Heaven to express what I thought my mom would want to say to us after she arrived in heaven. Over time I would enclose the poem in sympathy gifts for others. The response was overwhelmingly positive, and after many requests I decided to publicly share this sympathy message so I published my first gift book.
3. What propelled you in the direction of grief support? Were you clear about next steps after losing your mom?
I have a degree in finance and have worked in the retail and banking fields. But I've found my compassionate niche in bereavement. I like the part of providing comfort to people although I never anticipated that this would become my career. People are afraid of death. We're not taught about death. It's the big white elephant in the room. I want to change that dynamic through my books, newsletter, blog posts and after care programs (365 Days of Grief Support and 52 weeks of How to Support a Grieving Friend which are available through Front Runner Professional). My site also includes many free articles about dealing with loss in specific situations–whether it is the loss of a spouse, child or parent. One of my missions is to open up the dialogue about death and loss having seen firsthand the powerful and often negative impact denial and silence can have.
4. You created With Sympathy Gifts and Keepsakes. What inspired you to do so?
How people choose to deal with grief is so important. This is one of the reasons I launched www.withsympathygifts.com  to offer people options to commemorate their loved ones in meaningful ways. People who haven't gone through a loss don't often know what to do or say to someone who's grieving. But the person is going to think about it, so it's best to acknowledge it. One way to do so is through remembering milestone dates such as the first Christmas without a loved one or having a child without your parents which was my personal experience. You're really honoring the life of a person who's not there…it's like you're including them. That could be through something as simple as sending a thoughtful note or card or placing a memory stone in the garden or hanging a special ornament on a holiday tree. I'm working with a gift company to create a line of milestone memorial products for my site.
5. You also offer seminars and teleseminars for the grieving. Tell us about that.
This year, I have started to expand my support through a 4-part webinar titled Life Purpose After Loss. I feel passionate about bringing loss to the forefront and for dispelling the idea that loss is a four-letter word. A few years ago, my friend lost an infant. I just knew what to do and how to help her. It's about acknowledgement of the loss first, then acceptance, then celebration of a life lived.
6. What is an important message you would like to share with my readers?
We celebrate people being born. But when they die, everyone is quiet. Those people lived a whole life. Why can't we celebrate that? By breaking society's taboos around talking about death and ignoring the lifelong consequences of grief we will be better equipping future generations to accept this inevitable part of life.